Peet's Coffee & Tea In Store Fulfillment
Peet's Coffee & Tea was preparing to celebrate their 50th Anniversary and wanted branded foil balloons printed and delivered to all of their stores in time for the kick-off celebration. Trouble was there was not enough time to get the balloons to their fulfillment company to be kitted along with other signage and merchandise. Balloons Direct was able to step in with a solution. We had the balloons printed, packaged in 24 count with ribbons and shipped directly to our warehouse. We were able to receive, pack and ship out to all 237 store locations the same day. Happy 50th Anniversary Peet's!!  
Flam Chen 25 ft Diameter Moon Balloon
Flam Chen Pyrotechnic Theater Co. needed a giant moon balloon for the 2015 Electric Forest festival. The balloon needed to be large and strong enough to safely carry a live aerial acrobat high above the crowd. We were able to create a digital file large enough to print on this gigantic balloon using US Geological Survey images. The resulting file was used to digitally print the surface of the Earth's moon a full 360 degrees around a 25 ft diameter vinyl sphere. The image was divided into pieces then printed on vinyl panels that were then assembled to create the final balloon. A 16 point tether harness was added to allow for proprietary rigging equipment to be suspended below the balloon.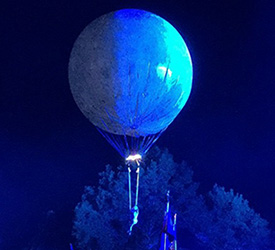 INOVA Gumball Balloon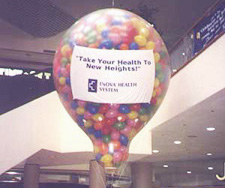 A major hospital and medical care facility operator wanted a fun unusual activity to engage people at a local mall celebration. Balloons Direct built a large clear vinyl balloon with a wide sleeve opening and filled it with 9 inch multi-colored latex balloons to create a giant gumball machine. The client had passersby guess the number of latex balloons in the gumball machine for chances to win prizes. The whole event was a resounding success and loads of fun was had by all!