Get Your Balloons Direct and Top Notch Service at Super Low Prices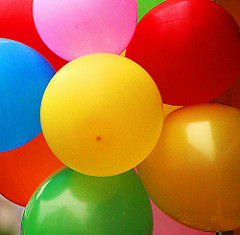 About 25 years ago, the business behind BalloonsDirect.com sought to improve the balloon-buying experience for all Americans by offering wholesale balloon prices directly to customers. We were a true online pioneer for balloon ordering. When we originally launched our website in 1998, the goal was to supply party-planners and event managers (and the rest of us) with superior quality balloons at the lowest possible cost. We wanted to be the go-to spot on the internet for bargains on balloons and accessories like affordable air-blowers. If you were planning a birthday party or wedding, we hoped we could satisfy your need for a specific color theme with a variety of latex, foil, mylar, vinyl, weather balloons and even beach balls!
Now, 25 years later, we fulfill orders every day for balloons and ship them out fast! We're now expanding to a larger warehouse, which means more options for our customers and even lower prices. We want to be known as the best deal on balloons in the galaxy. We have shipped weather balloons to LA, NYC, Arizona… All across the US. You can really call us a continental balloon supplier! Even overnight shipping is available on most orders. They really zoom out our door and into your hands. We don't want you to have to go to Amazon, Walmart, Oriental Trading, Party City or any other shop where you'll pay retail for your balloons. At BalloonsDirect.com you will never pay MSR (Manufacturer Suggested Retail) Price. That's big fun for us!
We can help your event receive the prestige it deserves with great advice on balloon displays using helium or even just air-filled balloons. You can choose from a rainbow of colors. Our past customers were looking for brands like Toy-Tex, Tuf-Tex, Hi-Tex, Sempertex, Maple City Rubber, Ashland, Brody's, Tilly, J&R, Supertex, Qualatex Balloons and more. If you need a unique balloon order, please consider our humble shop. Maybe you're looking for Betallic? Go ahead and contact us! Seriously, we can help you out with balloon solutions from A2Z.
Maybe you're house will be full of party loons at your next big children's event? Maybe you need to sell a bunch of cars at your auto dealership? Maybe you need your balloons tomorrow? Then you have found the right website! Some of our orders even ship direct from the factory. Nope, I'm not full of BSA! Some of our balloons can even be used for limited scientific research like aerial photography. Our weather balloon makes the largest water balloon you'll ever see. This is no accident, latex occidental! It's because we are the one-stop shop for all of your balloon needs. We look forward to serving you!
Photo Credit: Balloons Alan Cleaver